Warranty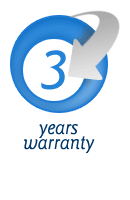 Ergolinia is an industrial chair designed to work under extreme conditions.
Steel, ultra-flat five-arm base, adjustment screw up to 66 cm, durable ergonomic seats, and heavy-duty spring steel back-rest support are all assembled by us, what allows us to advance a 3-year unlimited warranty to assure you satisfaction from using the Egolinia chairs.
We cannot imagine a more durable piece of furniture.

---