The Idea of Ergolinia
Ergolinia is industrial chair created for people working in the manufacture workshops, where
ergonomics is at stake,
however the pace of work does not allow for handling the equipment with care.
Ergolinia chairs are characterized by simple construction.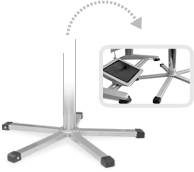 We have accomplished tremendous quality and functionality by the smart composition of the highest quality materials. The five-arm, ultra-flat steel base will fit ideally under the lowest elements of any machinery and worktables. Ergolinia has an adjustment screw up to 65,99 cm (25,98 in.), durable and ergonomic upholstered seat with the heavy-duty spring steel back-rest absorber. All steel elements are varnished with the RAL silver 9006 powder-spray.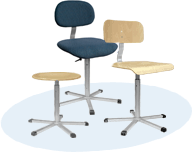 The upholstered version is designed for those who value the comfort and work one-shift. The upholstered seat can be replaced with plywood (for anyone who values comfort but works in places where applying upholstery is not possible e.g. service shops, printing houses, laboratories and multi-shift work). For special purposes, and where functionality is crucial, we have designed an industrial stool.
When equipping with the Ergolinia product you organize a healthy and functional work environment for your employees, and by doing this, you win their sympathy and assure better output. You regain the invested money in a short time!

---