Choose a base:
100.19 EUR
Seat:
polyurethane integral foam used to construct this seat assures outstanding durability and resistance to oil and other industrial contamination. Seat width 42 cm, octopus pro ultimate seat adjustment system, allows for separate height and slope regulation, seat height : chair on plastic feet 39-52 cm, chair on wheels 41-53,5 cm, chair on the ultra-flat base (4B-black) 39-51 cm (measures may vary slightly due to technological reasons).
6.7 EUR
Pneumatic lift:
industrial pneumatic lift, diameter 50 mm
18.16 EUR
Relaxing footrest:
steel, chromium layered ring, outer diameter 450 mm, relaxation for feet
Net value: 125.05 EUR


hardened, polyamide base, diameter 610 mm (feet or wheels necessary)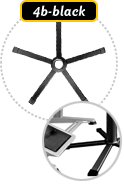 special ultra-flat profile base, diameter 540 mm, (no wheels or feet needed)
---

Net prices (+23% VAT tax).